The University of Oklahoma School of Dance will open the University Theater season this week with Contemporary Dance Oklahoma.
The show is composed of five works, two by guest artists and three by resident School of Dance choreographers.
OU's School of Dance professors are both instructors and choreographers and the intimate nature of the department allows dancers to develop close connections with their professors throughout their four years at the university.
CDO Director Roxanne Lyst said the opportunity to learn from guest choreographers is a very different experience for OU dancers than working with their professors.
"We're with them all the time, and they get to know us," Lyst said. "This is somebody who's brand new to them and who hopefully will work in a way that's completely different."
Lyst also said that working with guests is an important element in dancers' education.
"Choreographers coming from the professional world, it gives (students) a sense of what the professional world is like," Lyst said. "What professional expectations are."
Thang Dao is one of this season's guest artists. Dao is an award-winning freelance choreographer and educator who splits his time between New York City and Los Angeles. He received a BFA from the Julliard School and graduate degrees from New York University and Hollins University. Dao has performed nationally and internationally and has choreographed for many dance schools and companies across the United States.
Dao choreographed a work for CDO called "This Old House is All We Have." The work is set to string music and incorporates two large tables as props, which play the role of different household elements in the work. The dancers move the tables and dance on and behind them. The props create an elevated movement dynamic and nuanced shapes and images. The work is a nod to foundational childhood experiences and memories.
Kimber Harlan is a junior modern dance major and had the opportunity to be Dao's choreographic assistant as he created the work. She said that she was able to get a look into Dao's creative process.
"Whenever you're a dancer, you're so busy trying to learn the dance. You can't see what their process is like," Harlan said. "I got to sit back just kind of observe and see how like he would handle different things, and I love getting a different perspective on choreographers."
Kate Weare is the choreographer of Night Light, the second guest work of the season. Weare received a BA from California Institute of the Arts and went on to dance in cities such as Los Angeles, San Francisco, London, Belgrade, and Montreal.
After moving to New York City, Weare founded the Kate Weare Company in 2005, a contemporary dance company focused on the concept of humanism with women at the center. Weare has been the resident choreographer of many dance companies and has won countless awards for her work.
Weare originally choreographed Night Light on the Julliard School. The piece was set on, or taught to, CDO dancers by Doug Gillespie, a rehearsal director and dancer with the Weare company.
Night Light is a large piece with over twenty dancers. The group dancing in the piece creates a strong force onstage, especially in juxtaposition with the very personal duets that occur throughout the work.
Harlan will be performing in guest artist Weare's work.
Harlan said Night Light has given her the opportunity to branch out in the types of dancing she is used to doing.
"I've never done a lot of partnering and the dance is very heavy in partnering," she said.
Riley Henderson is a senior modern dance major who is performing in both guest artists' pieces and echoed Harlan's sentiments about partnering in the show.
"Because we've been stuck with COVID-19 the past couple years … we couldn't really do much partner work and getting close to each other was kind of limited for a while," Henderson said. "There's a lot of pieces this year that have a lot of partner work … which is really fun to finally get to do."
Lyst choreographed "Awakening" for the production. Because the show is so early in the semester, Lyst has been developing the piece since spring.
Lyst said that while she did not start the process with a narrative in mind, a theme developed throughout the creation process.
"It's about community, a community of people, their relationship with being in the community and also their relationship with each other," Lyst said. "And each one has a different story."
The various sections incorporate solos, duets, and group work, and Lyst said they help represent the different parts of the community.
"There's a role of kind of a healer, somebody who's very content in the community … somebody who like just wants to leave the community and feels that it's not the right place for them," Lyst said. "And then the last section is the dancer's breaking away from the community."
Five benches are used in the piece as props. The dancers move around, in between, and jump off of the benches, which are set in a formation.
Lyst said the benches aid in the visualization of the work's theme.
"The benches are in a circle, and they stay in a circle for the entire work," Lyst said. "And that is the space of the community."
Most of the dancers in Lyst's piece are first-year students. Because CDO is opening so early in the school year, the dancers have been rehearsing since the week before the academic year began.
Lyst said one of her favorite things about preparing for the show was getting to know the first year students.
"We started the week before classes started, and it was really nice because we had long rehearsals and just being able to be in the studio for a long period of time," Lyst said. "Most of the time we just have an hour and then the next day we have an hour and it's broken up. But to be with them all day, it's really wonderful."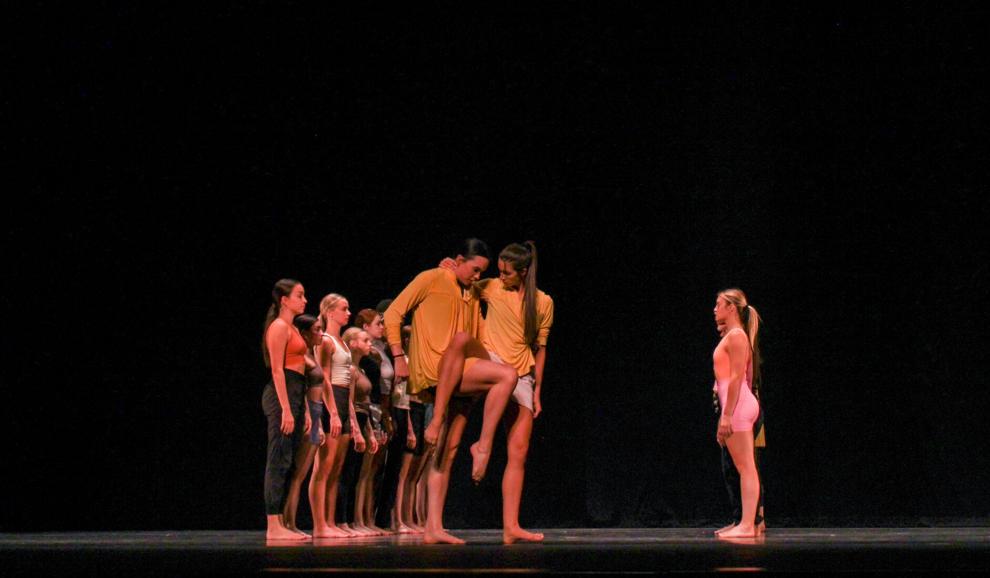 School of Dance professor Austin Hartel's work "Washed," is a solo piece that will be performed by three different dancers throughout the run of shows. The solo incorporates intense, fast floorwork juxtaposed with slow, steady movements. Each of the dancers brings a unique interpretation to the choreography.
Professor Leslie Kraus's work is called "The Way You Hide." Consisting with the title, the piece incorporates two large white walls that the dancers move across the stage. The dancers use them to create illusions of appearing and disappearing, dance in front of them, and even stand on small platforms attached to the wheels. The walls create a multidimensional element that gives the audience the sense that the stage is made of multiple rooms, not just one square area.
For people who have never seen modern dance, it can be hard to know what to expect and how to interpret what is happening in front of them. Lyst says she is often asked what modern dance is.
"I think that the best answer that I can give is that it's a wide range of aesthetics within one category," Lyst said. "Essentially it is post-ballet and post-classical ballet, but that involves a lot of different things."
Lyst says this CDO show especially incorporates this range of aesthetics seen in this category.
"I think that every piece is so different from each other … it really showcases that wide range of modern dance that is out there," Lyst said. "There's something for everyone. There's group pieces, there's the solo, lots of scenic elements, different aesthetics of dance, different types of music."
Contemporary Dance Oklahoma performs this weekend on September 23 at 8 pm and 25 at 3 pm, and next week September 29 and 30 and October 1 at 8 pm and October 2 at 3 pm The performances will be held in Holmberg Hall and tickets can be purchased online or at the door.